Beacon Hill Interior, 2nd and 3rd Floors

One of the changes I made to the Beacon Hill was to leave out the staircase and open up the room on the second floor. With the additional space, I created a bedroom large enough to really show off some beautiful pieces of furniture. It was also large enough to do an inlaid parquet floor. The furniture started with the Bespaq vanity and mirror I found at the Denver mini show plus a gorgeous hand carved bird cage that was a Christmas gift that same year. I added the bed, settee, a burl wood armoire, and a drum table that holds a bowl and pitcher (not pictured).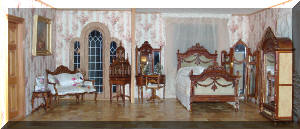 It wasn't long after that I found a chair and table that match the settee.

I did eventually dress the bed properly and made matching drapes for the windows. This design was my "place holder".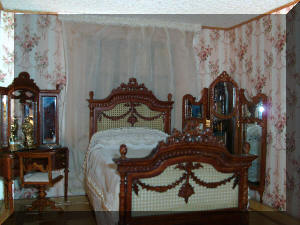 I finally decided on what the little room on the second floor should be. It seems so obvious I'm surprised I overlooked it during all my planning. Any woman with a bedroom like this needs a walk in closet! The armoire is temporary till I find one that matches the bedroom furniture, but I'm beginning to get a feel for this room. With the luggage piled up, we can only assume that Eliza is either just returning from a trip or getting ready to leave again.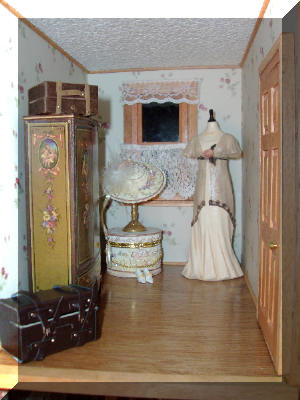 Update: I found the perfect armoire but it wanted to live in the bedroom, so this is what I did with the closet.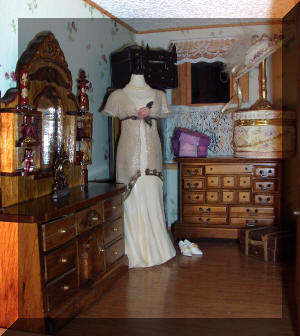 Jadis is the Holly-Dolly that Havana Holly made for me. She's decided that the studio room in the BH is her very favorite place. One of the first things she wanted was a bentwood rocker. She's so happy with it! And then Jadis went shopping (or maybe she just conjoured up a few thing things), but her studio is really taking shape now! Of course, in addition to being a painter and a textile artist, she loves to build dollhouses too.
(*Update: Jadis was invited to move into the Pierce with the witch and she gladly accepted the offer. Her favorite place is in her bentwood rocker in the attic tower room.)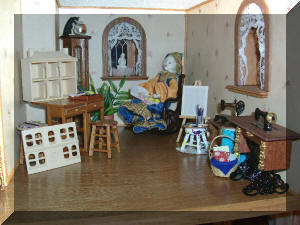 The meditation room is one of my favorite places. The prayer wheel is actually in scale with a real life temple wheel and was imported from Tibet. The bookcase and cabinet are recent additions. I also put a coat of varnish on the prayer wheel to seal it.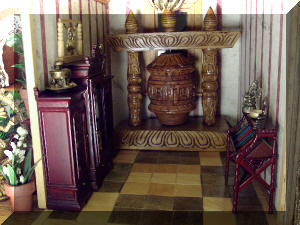 I love both these pieces because of their asian flair. The bamboo legs on the bookcase area delightful!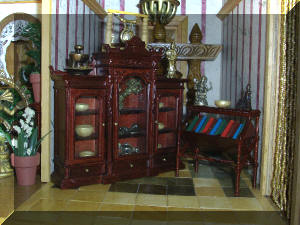 The plant room is also a favorite of mine. To see Shiva surrounded by such greenery and growing things is good for my spirit.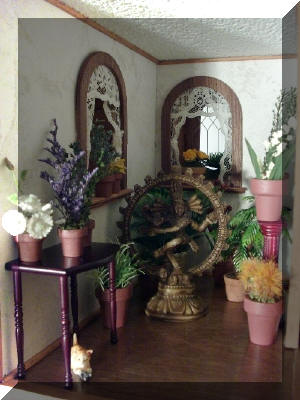 This is the overall look of the interior.