The Dixie Manor Bed and Breakfast

Dixie Manor is a custom built Pierce. The exterior is done in shades of iced lilac, lavender and rose. The interior woodwork glows in a warm honey tone, perfectly complimenting the pastel wallpaper. Dixie Manor has a total of six bedrooms, a water closet, a bathing room, a kitchen and a parlor/dining room--quite a few more rooms than the Pierce usually has because I added some interior walls to create more bedrooms. The owner of Dixie Manor has named the bedrooms: The Magnolia, The Southern Belle, Cotton Fields, Sweet Tea, Peach Cobbler and Mint Julep. Outdoors the guests can go for a walk in the gardens, linger by the fountain, or relax on the front porch. This may be the ultimate in miniature vacation spots! We hope you enjoy your visit to Dixie Manor and that y'all come back again soon.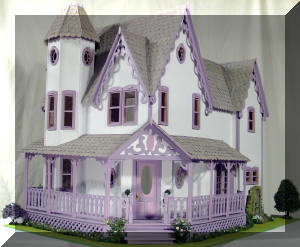 There are so many pictures that I've put them all together here. Click on a thumbnail to see the picture.
Interior:

The maid has been cleaning up after the construction crew and Dixie Manor is almost ready for her guests.