Fairy Gardens

I do have a couple of other passions in my life besides miniatures.....things I did before I discovered the joys of dollhouses. I've always been an avid reader. and textile arts are in my blood. I learned how to embroider before I was old enough to thread a needle by myself. Rocks are another passion. When I was a kid there was a geologist who taught in my Dad's science department and every other Saturday Kurt would take a group of us kids out into the desert in his VW micro-bus and we'd collect rocks. He taught us all about minerals and stones and I developed a lifetime love for them. And then there are the plants. I adore houseplants of all kinds. On those rockhounding expeditions of my childhood, I'd be just as likely to come home with as many cacti as rocks and used both to create cactus gardens in the yard. As an adult I learned to love and care for houseplants and my house looked like a jungle. The more exotic the plant, the better I liked it!
Now I'm old and physical limitations prevent me from gardening in the earth (and two inquisitive cats prohibit keeping my plants inside) so I've learned how to grow my cacti and succulents in planters. Living in the desert means that the plants can be outdoors all year 'round and my favorite leafy things are still the exotic and unusual cactus and succulents native to this area. I still like rocks too, so I've incorporated quite a bit of my rock collection into my planters. When the fairy garden craze began, I took to it like a duck to water. After all, fairy gardens combine my favorite things.....miniatures, plants, and rocks! Here are a few pictures of some of my fairy gardens for you to enjoy.

This was my first fairy garden. The house was a gift from my friend Tracy and made me think of an English country garden. I like the geode that looks like a cave entrance.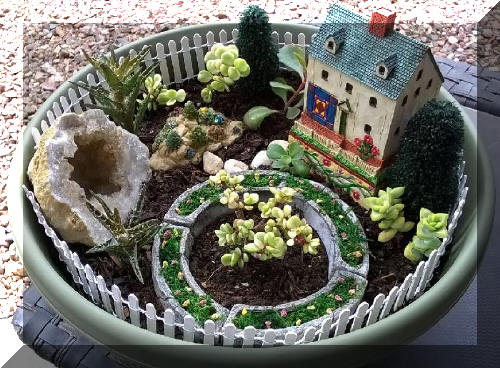 This little buckboard wagon seemed like the ideal home for a skeleton fairy garden. I found the perfect Lemax pieces for it....a gazebo and bridge made of bones, a bat bath, some broom parking, and a cute little birdhouse with a teeny skeleton bird.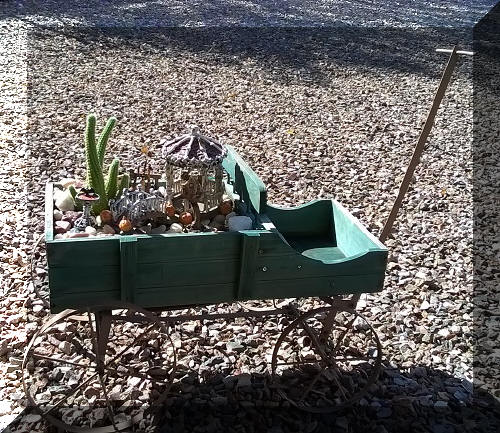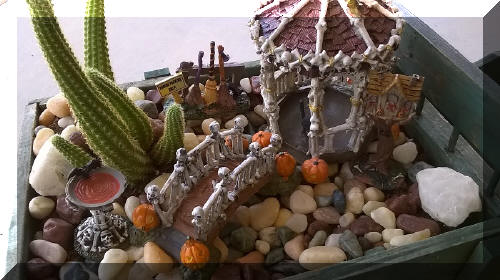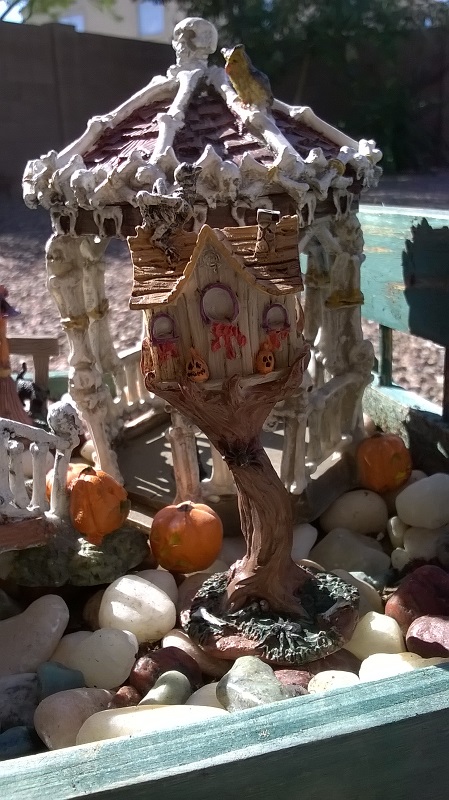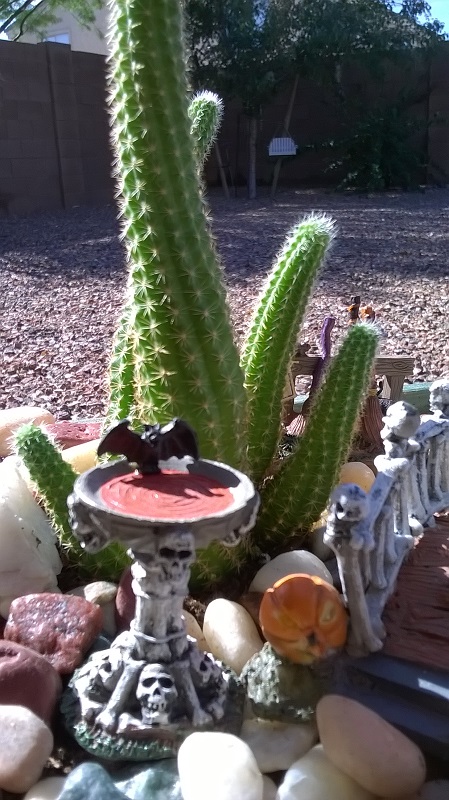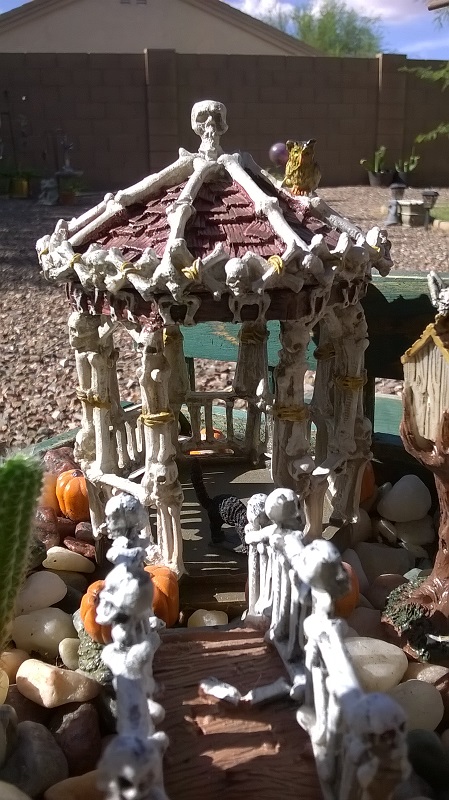 I made a seaside vacation spot for fairies in a pretty blue washtub.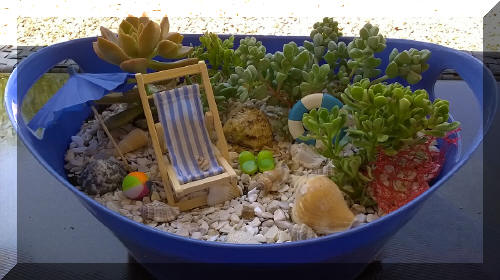 The bonsai isn't exactly a fairy garden, but it's the perfect home for my mud men.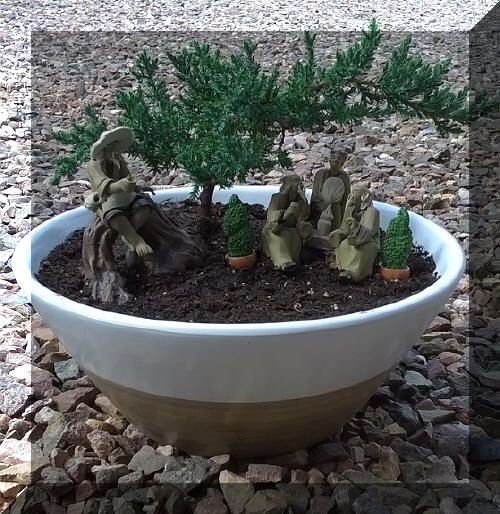 Meet Lizardzilla. This is a small whiptail; a species of lizard common in my yard. They get up to over a foot long and have graceful tails they trail behind them like the train on a Victorian lady's skirt. They're also very curious and like to explore everything in the yard, including the gardens.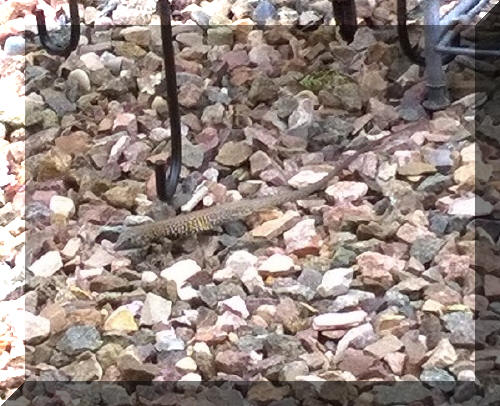 I found this castle in the aquarium supplies department and realized that if I buried it halfway into the dirt, it put the castle right at ground level.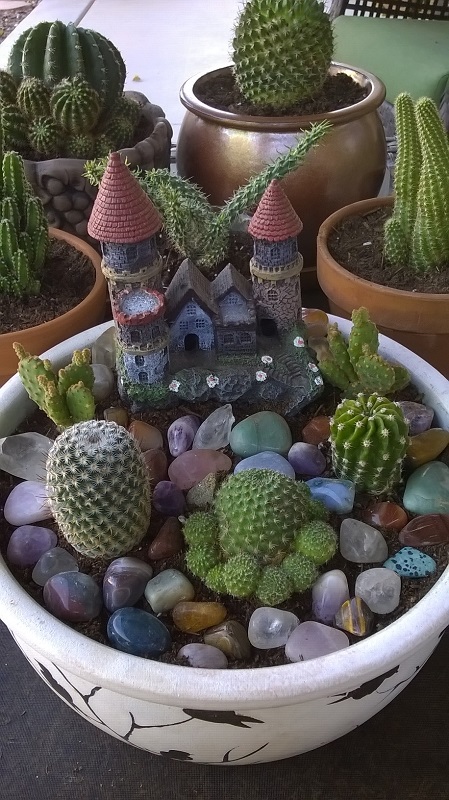 I found the resin desert camping pieces and knew that I had to make a fairy garden for them. It's one of my favorites and contains some pretty awesome stones from my collection. All the rocks in this one are native to my beloved Arizona desert.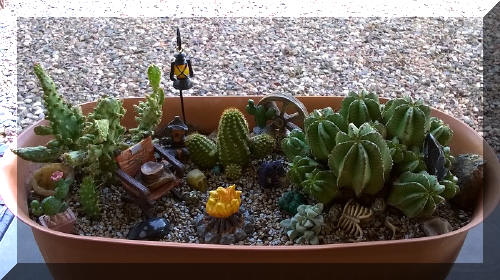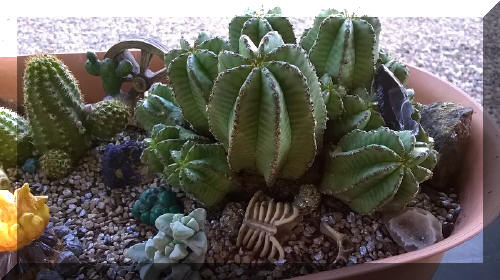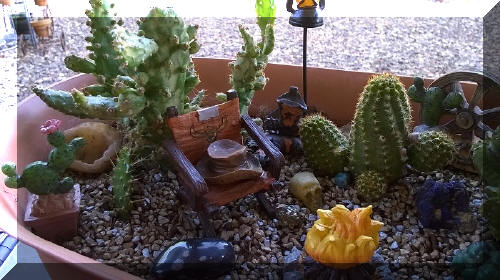 I like this little fairy house so much that I made it the focal point in a garden that will grow into a lush jungle.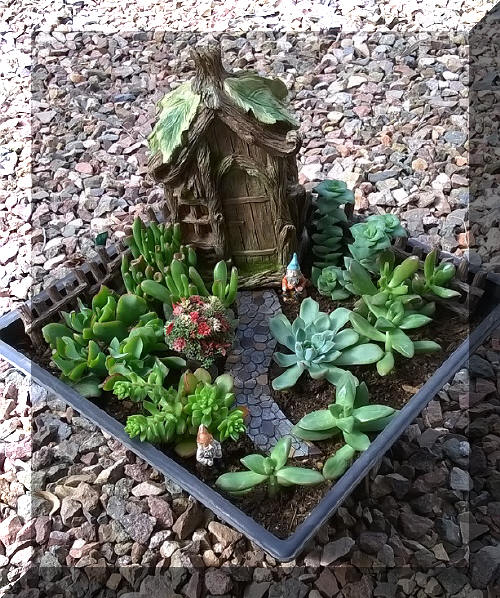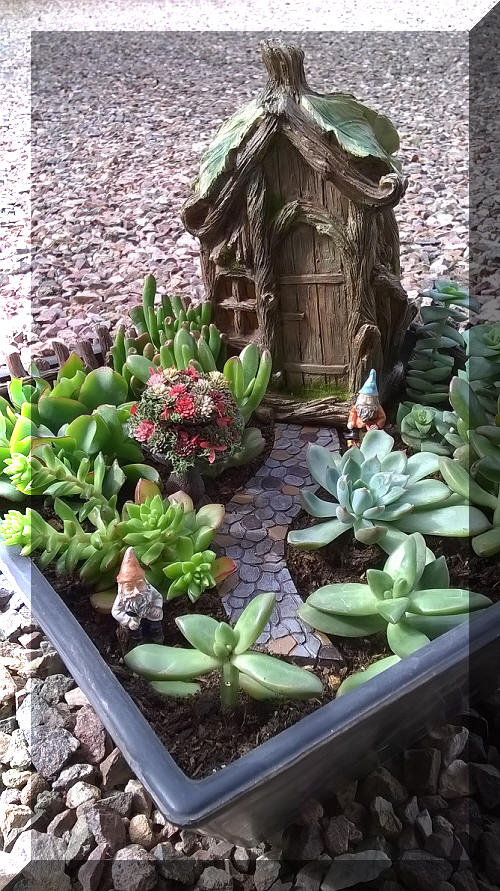 One of the things I love to do is hide miniatures within miniatures. My friend Deana sent me a two-tiered bird bath that I filled with mini flowers and plants to create a succulent garden within the fairy's garden.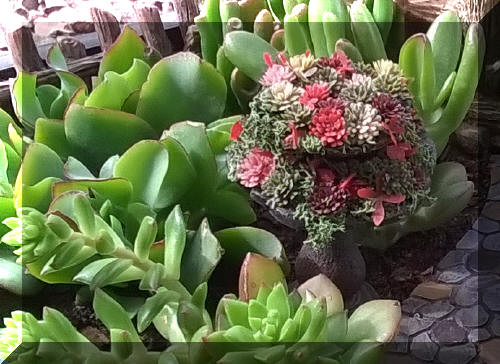 This is Spike....or one of dozens of the same variety of tree lizards in the yard that all get dubbed either Spike or Zippy. They like hanging out on the patio with me and crawl around on the walls of the house. About twice a year there will be new hatchlings that are small enough to fit on my thumbnail and grow up to about six inches long. They aren't as curious as the whiptails but they've very polite.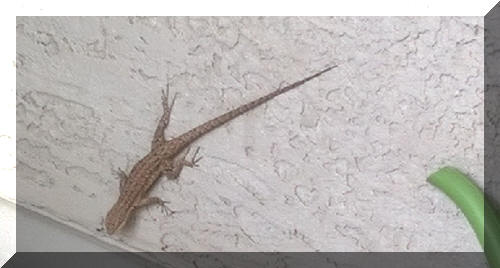 I had this hanging planter and was wondering what to plant in it when I realized that it would make an adorable fairy-frog garden. I added a covered bridge along the pathway, a frog pond, and some pretty green sparkling crystals. You can see the frog hiding behind one of the plants to the right of the bridge.