The Limited Edition Arthur---Celebrating 60 years of Greenleaf Dollhouses

To celebrate their 60th anniversary, Greenleaf released a very special house. This is the Limited Edition Arthur. Only 200 of these kits were made and then the dies were destroyed, so it's truly a collector's dream come true. It's also my personal dream come true because I was selected to build the prototype and write the instruction manual for the kit. My only regret is that I built it in a rather generic fashion for the online catalog. There is SO much potential for this kit to take on almost any personality.
This Arthur is a fabulous house and would be easy for a novice to build as well as providing the potential for enough challenge to make an experienced builder happy. Any way you build it, it's going to be a beautiful house. One of the things that make it stand out is that it's made of birch wood.........as silky and smooth and beautiful as anyone could ever hope for. The octagon birch shingles really add to the look and the trim, window and door upgrade give it a fantastic finished look. If you want to find out more about the LE Arthur kit and purchase one of your own, you can find information at the Greenleaf Store.

This is the official ad for the LE Arthur at the Greenleaf store.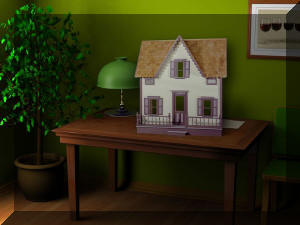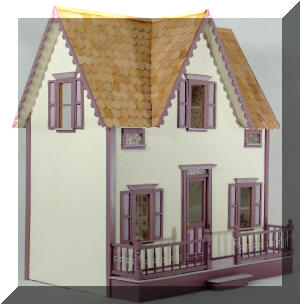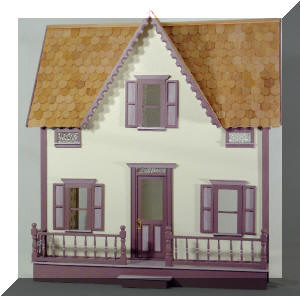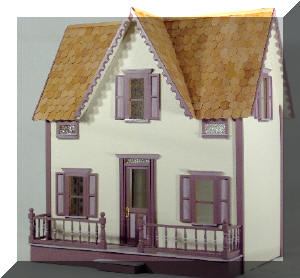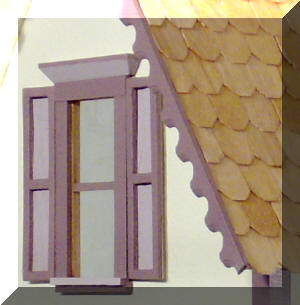 The LE Arthur is also the only house I've decorated after it was built. My normal building style is to do the wallpaper and paint prior to assembling the house so it took me outside of my comfort zone. It didn't come out as well as I'd hoped and since then I've stuck with decorating prior to building as my own personal preference.