The All New Wise Ways Emporium!

Wise Ways is a part of my private collection and is very near and dear to my heart I built it as a tribute to my Great Grandmother Sarah Ann who was a healer and wise woman in the deep hills of the Ozark mountains In the 1800's she was an exceptional woman because she was a divorced woman who owned her own land. She had worked hard to save up the money to purchase a farm which she farmed on her own with only the help of my Grandfather, her only child. She built a log cabin, planted her crops and her garden, tended her livestock, and continued her healing. Most folks in that area never saw a doctor....."Aunt Sary" was the only healer and midwife they had. My Grandfather married and had ten children, all raised on the farm with the help of Sarah Ann. My Great Grandmother was a strong, independent woman and even though I never met her, she has always been my role model and my spirit guide.
When I first built Wise Ways Emporium the kit that I had in mind for it was the Greenleaf Brimbles Mercantile. I wanted one so bad I could hardly stand it but they were out of production and were scarce even on eBay. Great-Grandma Sarah Ann was quite put out about that because she insisted that no other store would do except a Brimbles. She finally settled for an RGT Shoppe at a 50% off sale at HBS, but she kept muttering about how she wouldn't rest till she had a Brimbles. Apparently she was working a little magick in her mumbles because Greenleaf re-released the Brimbles kit. Even better, it was released in laser cut! I was thrilled with the kit and the fact that it's laser cut.........Sarah Ann was thrilled to finally get the shop she wanted in the first place. Most of the interior furnishings are from the old shop, but there are lots of new things too. Some of the most delightful treasures are those made for me by my dear friends in the mini world. I cherish those things most of all.
The new Wise Ways has more space for shopping and some new inventory. The research room upstairs has been expanded to include a lab table and a lovely relaxation area where witches and wizards can sit and chat, read, or listen to music. Best of all is the wonderful front porch and the garden on the side! Sarah Ann says that her shop has personality and character now and I agree with her! Thanks to Dean and Lisa at Greenleaf for re-releasing the Brimbles!!
So without further ado, welcome to Wise Ways Emporium!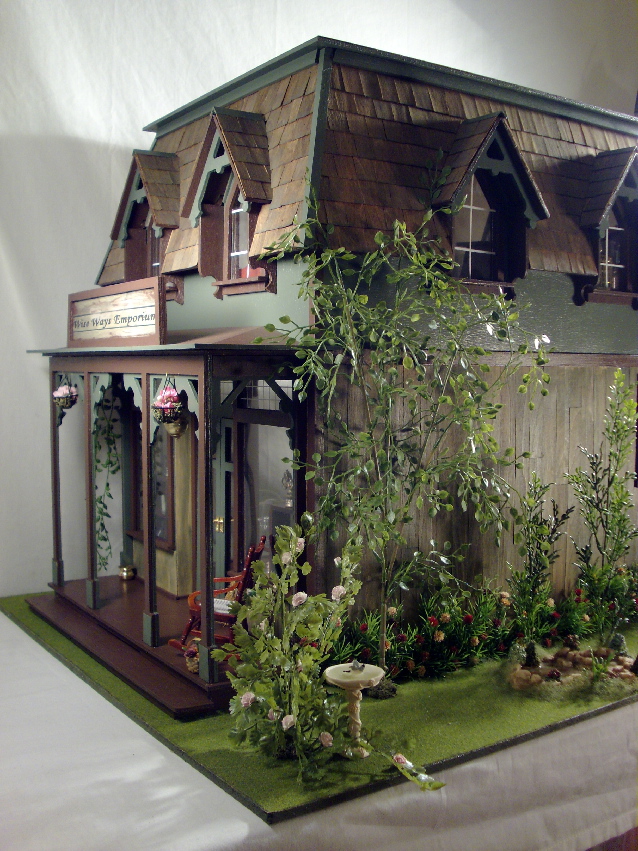 Sarah Ann waits at the door to welcome you inside. She's especially pleased with the front porch and space to hang her geraniums and put her rocking chair. She's been picking flowers in the garden and left her basket next to the chair.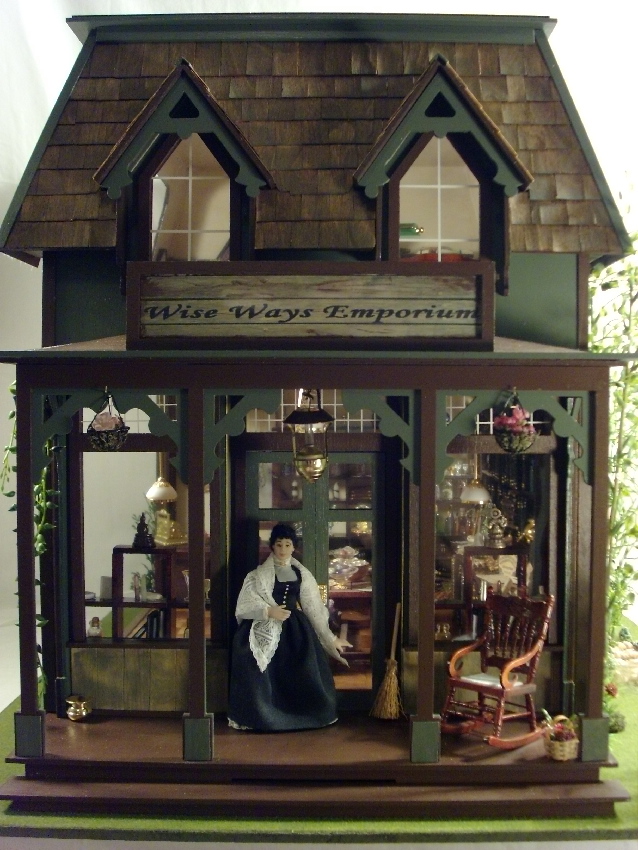 Wise Ways reminds you that this area is for broom parking only. All others will be toad.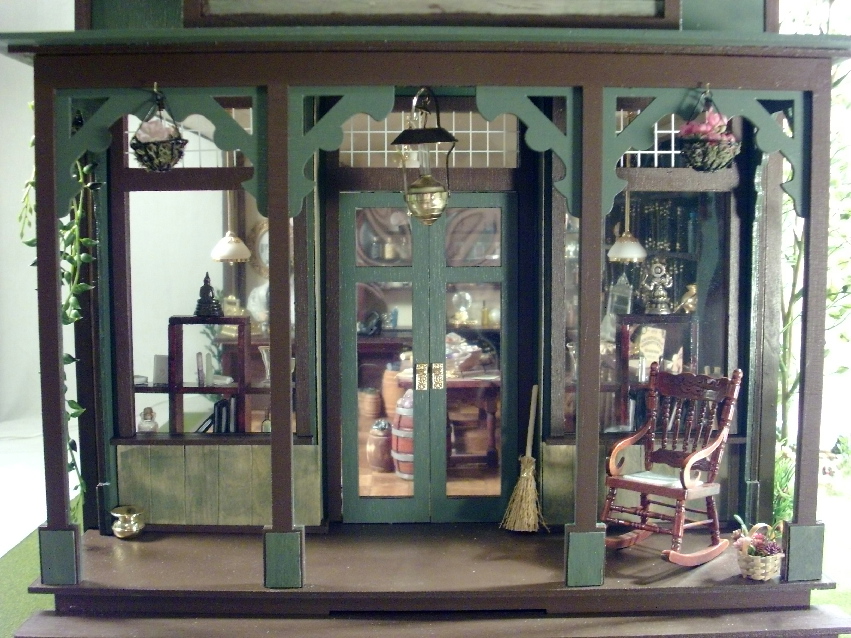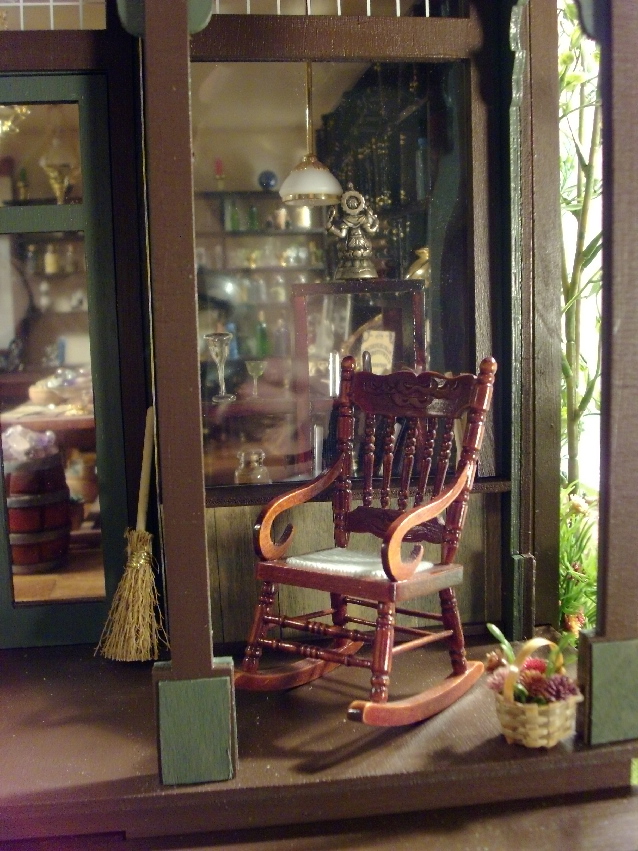 Hanging from the side of the porch is a basket of Aunt Sary's famous peppers. They haven't ripened yet but you can still smell them in the air.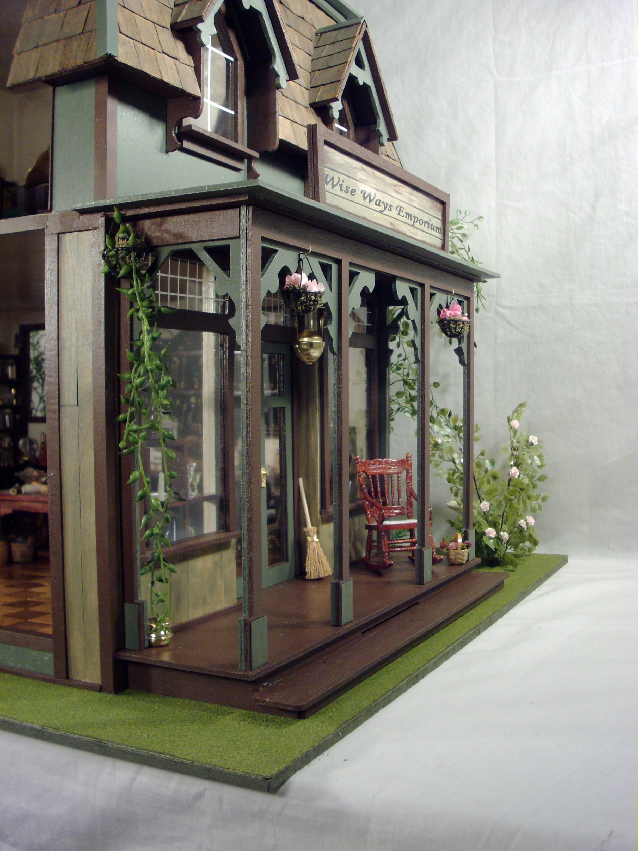 Sarah Ann put in a cutting of a Rose of Sharon bush in the spring. It looks like it's taking hold nicely.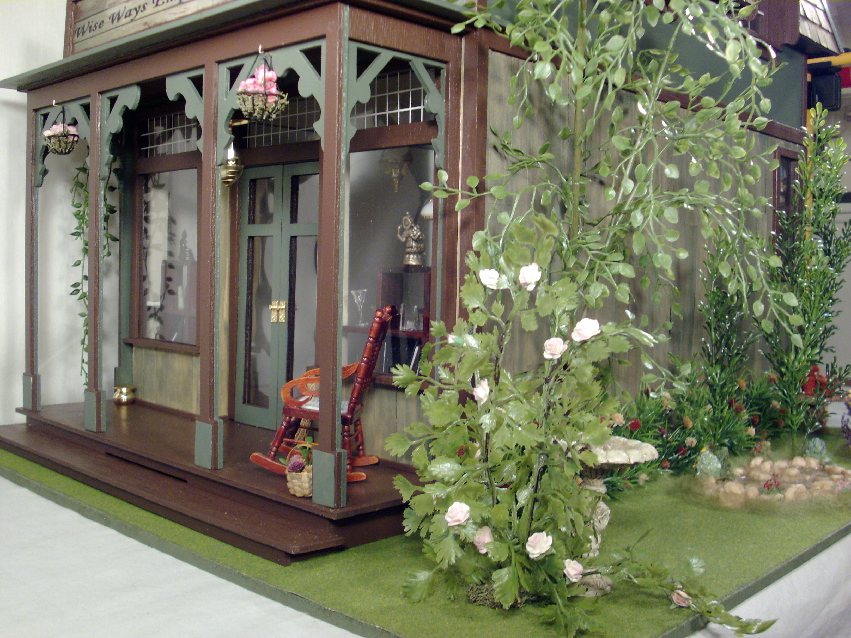 Here's a view of the whole garden.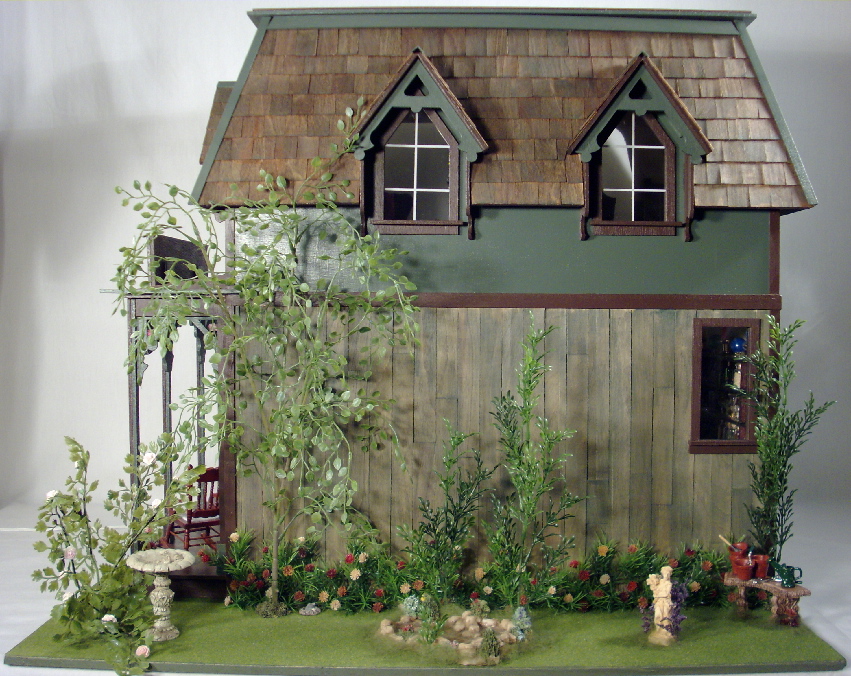 Sarah Ann would be delighted to take you for a walk in the garden.