Beacon Hill Interior, First Floor
As you know, my Beacon Hill is the home of a world traveler and it's furnishings are being added gradually. As I find unique and special pieces, they are added to the house. Since that's the way I decorate my real house, I know that the end result is going to be eccentric and eclectic, but somehow, it will all go together. The pictures of the furnished interior were taken over a period of time so the contents are constantly changing. My good friend Eliza was a house guest for a long time and she was delighted to help show off some of the interior features.

This is the most recent picture of the interior. I've left the older pictures and added new additions so you can see the evolution of the interior.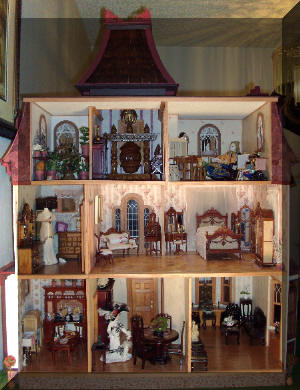 The first and second floors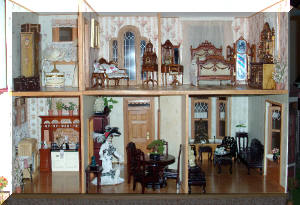 And the second and third floors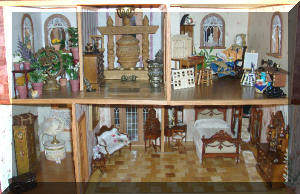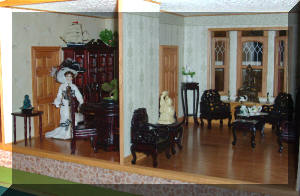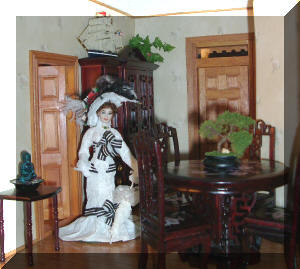 I lusted after the aga stove and matching sink for quite awhile and planned on using it in the Beacon Hill. It's a good thing it fit or I'd have had to bash out a wall because one way or another, that aga stove was going in this house! The stove is just a wee bit to wide to fit into the space beside the interior door and the other walls both have windows on them, so I put up curtains over the window to be seen from the outside, then created a faux chimney to cover it from the interior. I think I still need to mess with the woodwork around the edges, but for a temporary solution, it works. After a lengthy search I finally found the perfect size table and chairs to go in the kitchen! I love this scene and wouldn't change a thing now.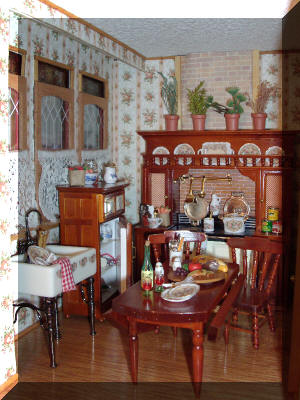 The living room furniture arrived from Hong Kong and I'm so delighted with it!! It's gorgeous and exactly what I wanted for this room.