Lynette's Technicolor Dream Couch (and Chair)

This is a custom set made especially for my friend Lynette. She's building a Taft that will personify all the best things about colors and the bright, happy attitude of a genuine hippy spirit. I'd shown her the couch and chair because of their fabulous, casual-yet-elegant lines and then we started digging thru fabric. When Lynette saw this fabric, she squealed which is about the best indicator that someone has just spotted a match made in heaven. I knew it was going to look good but it really came out even better than I anticipated. The curves of the paisley echo the curving lines of the furniture and that gives it a whole new look!
The fabric is from the Hoffman's 2002 Challenge collection. It's a 1:1 scale print which makes it seem improbable for 1:12 scale, but in this context, it works so well! Obviously that fat quarter had been patiently waiting in my stash for 14 years for the right furniture to come along.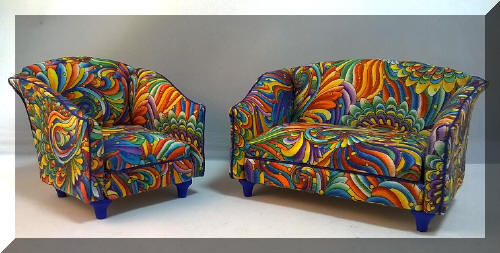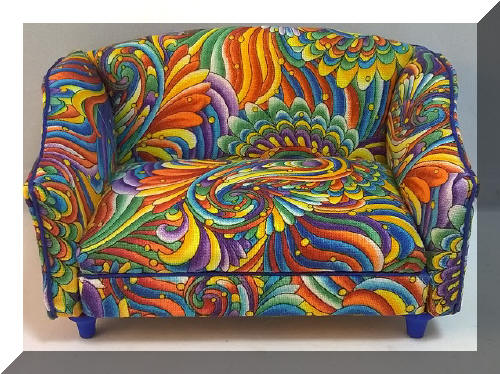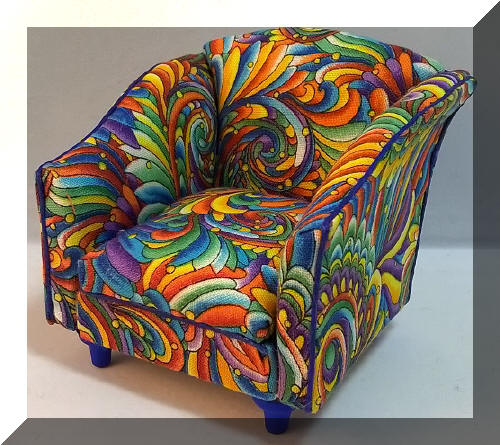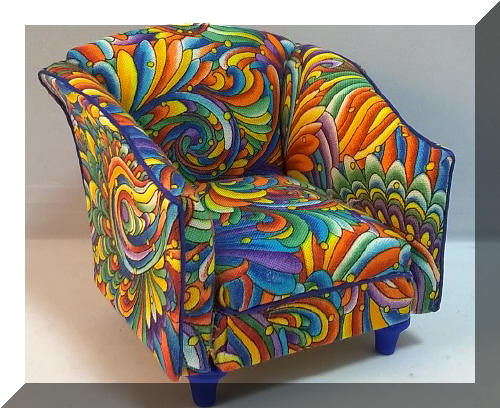 When Lynette and I were brainstorming about this set, we decided that of course there should be lots of big, comfy pillows to throw on the floor because we know that sometimes the most comfortable place to be is snuggled into a pile of pillows on the floor while listening to the Grateful Dead. So I made a big pile of soft, comfy pillows and cushions. The green dragonfly-wing patterned print is the same fabric that we used on the split ottoman for the same room, so I added a couple of pillows to pull the two pieces together. The others are soft Moda marbles in a rainbow of vivid colors.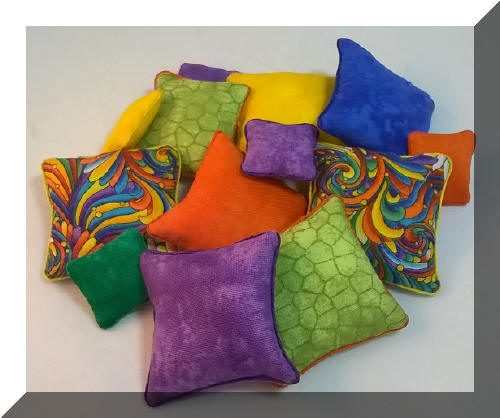 Once I started playing with the pillows, I just couldn't stop! No matter how I arranged them, each combination was better than the last. When I realized that I'd been playing with them for over an hour it occurred to me that if I were still in business, I'd make a bunch of furniture sets like this in all kinds of colors and textures and market them as Stress Relief Desk Sets. Having a bad day at work? Put a mini couch and chair on your desk and reduce all that stress thru the miracle of Throw Pillow Therapy! Yes, that's right! Simply arrange and rearrange the pretty pillows until the knots in your neck disappear and you no longer feel the need to scream. Operators standing by.....
Okay, so it's not a retirement plan but just think of how fun it would be. :-) And if you see someone marketing my idea in the next year or two, remember where you saw it first. LOL!
Speaking of seeing things, here are some pictures I took while in the midst of my throw pillow flinging to show just how cool and versatile it turned out to be. It's like a kaleidoscope with all the changing colors and textures! Perhaps I'm easily entertained but this was SO much fun!