WillowFaire Social Salon

The Willowcrest is undoubtedly one of the most unique and highly coveted of the Greenleaf line. It was out of production for several years and I'd almost despaired of finding one when my best friend told me she had one. I was thrilled beyond words and couldn't wait to build the house of my dreams. It remains one of the crown jewels of my private collection. I've written an entertaining story line for the Willowcrest and I hope you enjoy it as well as the picture tour.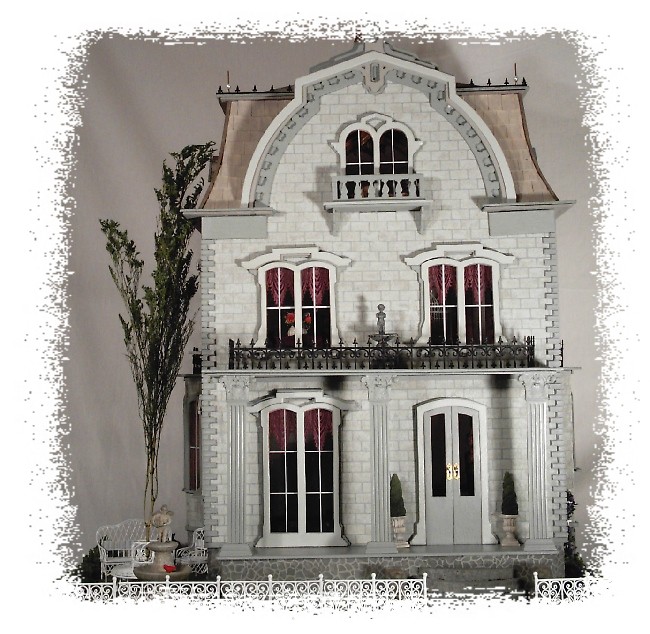 Welcome to WillowFaire, an establishment for the entertainment and delight of London's ton. Unlike establishments such as Whites and Almack's, Willowfaire maintains a discrete atmosphere and caters to a more elite clientele. Among it's patrons are Beau Brummel, Lord Byron and the Prince of Wales (or Prinny as he is known to those closest to him).
The proprietress of Willowfaire is Lady Emma Vanderburg. Lady Emma is the daughter of Charles James Fox and was raised up in the world of gambling, politics and the outrageous behavior of society's most outspoken demireps. As a child, she spent much time with the Duchess of Devonshire and her "Dearest Bess". Lady Emma became an intimate of the ton at an early age and her coming out was the social event of the year.
Not long after her début, Lady Emma met Lord Albert Vanderburg. Dashing and debonair, Lord Albert was most enamored of Lady Emma........and even more taken with her family fortune. He convinced Lady Emma to elope with him to Gretna Green, thereby putting an end to her father's protests about the suitability of the marriage.
Lord Albert quickly commissioned the construction of WillowFaire, the magnificent home for his new bride. A patron of the arts, he filled their home with beautiful paintings and sculptures. The works of art chosen by Lord Albert reflected his lust for life and sensuality. Less than a year after their marriage, Lord Albert was challenged to a duel after besmirching the reputation of the young Duchess Ellsworth. Sadly, Lord Albert was more adept as a flirt than as a swordsman and before the sun had fully risen, Lady Emma had become a widow.
Born with a strong spirit and raised with a sense of the unconventional, Lady Emma did not spend her year of mourning bewailing her bad luck. She knew that Lord Albert had squandered his fortune as well as her dowry. All that was left to her was WillowFaire and it's contents. Drawing upon her father's influences and advice from the Duchess of Devonshire, Lady Emma began the conversion of her home into London's newest and most daring social salon. One year to the date after the death of Lord Albert, Lady Emma opened the doors of WillowFaire as the newest and most fashionable entertainment establishment for the demireps, scoundrels and rakehells of London's high society.
WillowFaire quickly became en vogue with the ton as a gathering spot when it became known that it is the after hours meeting place for Prinny and his Je Ne Se Quois club. When not populated by Prinny, the Beau and others of their select friends, WillowFaire offers diversions such as discrete gambling tables, formal dinners and elegant balls. Less obvious but much discussed is that WillowFaire is often used for romantic rendezvous' and secret trysts between lovers. Parlor gossip often centers around who has been seen entering WillowFaire by the back door or whose carriage has been parked down the street.
Today, Lady Emma is honored with your presence in her home. Please, come in and meet the Lady of the house. She'll be pleased to give you a tour of WillowFaire and requests your company for tea afterwards. If she offers you sherry, be sure to accept. Lady Emma has been known to openly discuss all manner of things when she's in her cups.